A virtual coffeehouse for technological minds and ideas
---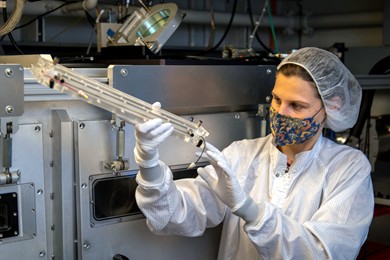 Advancing particle acceleration for the future - an interview with accelerator physicist Marlene Turner
Now imagine a technology with a superior acceleration gradient that can achieve high collision energies with less size and lower cost.
A real world check on climate model calculations of atmospheric radiative forcing – Interview with Chris Rentsch
Computer climate models make projections of the future using the best assumptions and calculations of how the climate system works. But relying on them requires that we check them against the best real world data available.
The fun and science of blacklight
Blacklight is special for two main reasons: The ultraviolet light is high enough in energy to excite electrons in the reactive material, making that material glow, and it minimizes visible light that would wash out or reduce the visibility of that glow.
Eerie and haunting; the effects of the Image Orthicon tube
A discussion with Richard Diehl, a.k.a. "Lab Guy", on his interests and the physics underlying the strange effects of the Image Orthicon tube.
Unharnessed Energy: Invisible Light from the Sky
When you walk outside at night you're bathed in infrared light from the atmosphere...
Astronomer Dr. 'Joe' Liske explores questions about Dark Energy
Identifying the force that's causing the Universe to expand is arguably one of the greatest challenges in all of physics.
Dr. William Phillips discusses time dilation, atomic timekeeping, and quantum computing
Interview with a physicist at NIST, and Nobel Prize winner, about the complex physics of time-keeping, Relativity, and the new frontier in computing.
Unexpected Teapots...
Connecting Bertrand Russell's hypothetical teapot to spinning dynamos that power the world.
The next machine to look deeper into the atom
The next leap forward beyond the Large Hadron Collider may be a giant linear collider that smashes electrons and positrons.
---
electricalfun.com, ElectronCafé.com, WorkbenchFun.com, and the electricalfun channel are trademarks of ElectricalFun Media
Copyright © 2023